Determine the efficiency of cfDNA extraction from plasma or urine samples using this easy-to-use cfDNA Reference Standard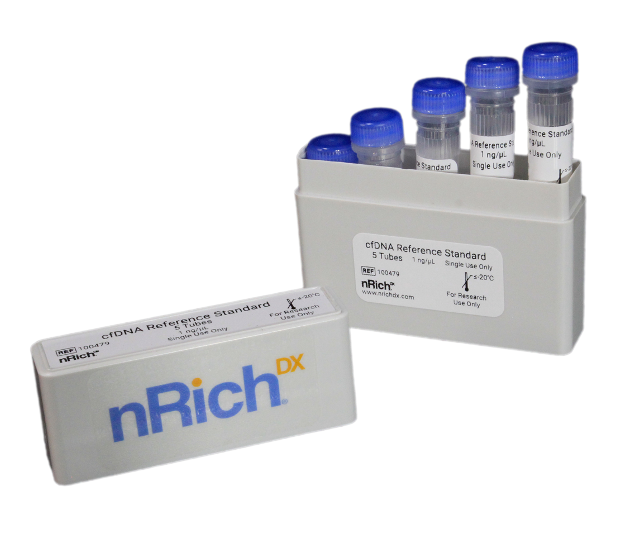 cfDNA Reference Standard
PN 100479
The nRichDX cfDNA Reference Standard contains 5 single-use tubes containing 1 mL at a 1 ng/µl concentration in TE Buffer. Comparing the spike-in amount to the recovery amount, the percent recovery is determined.
The cfDNA Reference Standard contains mononuclear DNA (mnDNA) containing the KRAS G12V mutation and the TP53 Arg158Leu, which is an established standard for spike-and-recovery extraction analysis for cfDNA*.
The expected mnDNA size is 150 bp. mnDNA is obtained from the NCI-H441 lung cancer cell line. Dinucleosomes and trinucleosomes may also be observed at the given multiples of 340 bp and 560 bp.
*Lampignano R, et al. Multicenter Evaluation of Circulating Cell-Free DNA Extraction and Downstream Analyses for the Development of Standardized (Pre)analytical Work Flows. Clin Chem. 2020 Jan 1;66(1):149-160. doi: 10.1373/clinchem.2019.306837. PMID: 31628139
For Research Use Only. Not for use in diagnostic procedures.
cfDNA Reference Standard Resources
Keep up to date with nRichDX
You'll be the first to know about product updates and latest industry news.