Revolutionizing cancer diagnostics
Cancer is currently recognized as the second highest cause of death globally, with 9.6 million deaths estimated in 2019. The incidence and mortality rates of cancer are so significant that 1 in 8 men and 1 in 11 women will die from the disease. Cancers with the highest worldwide mortalities in 2018 included lung, colorectal, stomach, liver, and female breast cancer, in that order.1
Circulating tumor cells (CTCs) have been identified as a potential blood biomarker to detect metastatic cancers. Isolation and analysis of CTCs with liquid biopsy technology can provide detailed genotypic and phenotypic information on multiple tumor subtypes even in early stages, allowing for health care providers to develop proactive cancer treatment plans. However, concentration of CTCs in the bloodstream is often low, making diagnosis difficult without adequate sample material and sensitivity for genomic analysis.2,3 The Revolution System addresses these needs with large sample capacity and high specificity, resulting in greater CTC yields to support accurate diagnoses and personalized therapeutics.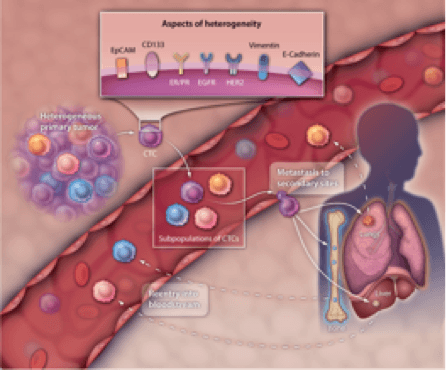 https://www.who.int/cancer/PRGlobocanFinal.pdf
https://jcmtjournal.com/article/view/11723.
Alix-Panabières, Catherine, and Pantel, Klaus. "Circulating Tumor Cells: Liquid Biopsy of Cancer." Clinical chemistry 59.1 (2013): 110–118. Web.