Let Us Extract Your cfDNA
Maximize your sample yield and get to analysis faster.
Get the expertise, convenience, and speed of nRichDX's Revolution Sample Prep as a service. Simply complete and submit the form below to get started.
Revolution Sample Prep™ Extraction as a Service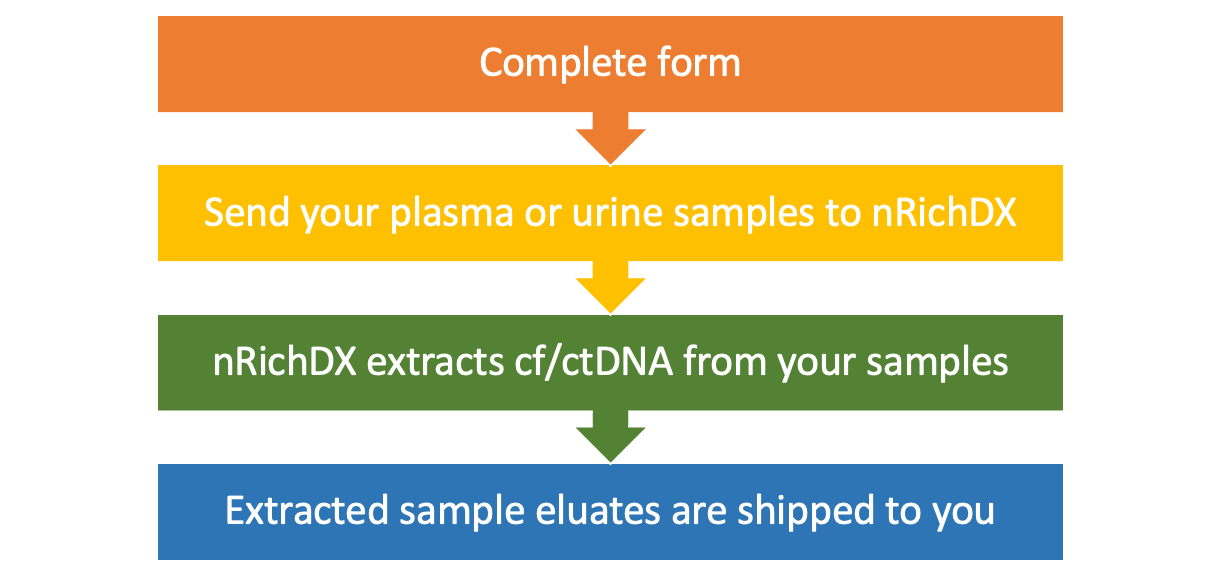 Send up to 20 mL of your plasma or urine samples to nRichDX. The experts at nRichDX rapidly perform the cfDNA extraction and elute in the volume you specify (25 µl - 100 µl).
Revolution Sample Prep enables extraction from up to 20 mL in a single extraction with no sample pooling - enabling maximum cf/ctDNA yield from your samples.
Extracted samples are typically returned to you by express overnight shipment within 7 business days from the date samples are received at nRichDX.
Qubit® and TapeStation® characterization data for your extracted sample eluates are available as an optional added service (approximately 12 µl of eluate required).
Per sample price
Extraction only:
<= 10mL input sample volume: $99.00
> 10mL - 20mL input sample volume: $119.00
Extraction with Qubit and TapeStation data:
<= 10mL input sample volume: $129.00
> 10mL - 20mL input sample volume: $149.00
To get started, please complete and submit the adjacent form, and nRichDX will contact you shortly (usually within one business day) to verify your order, answer questions, and arrange shipment of your samples to nRichDX.
To prepare your samples for shipment to nRichDX, please follow this procedure.
Prices are in US dollars.
Shipping costs are not included and are added to the final invoice.
Questions? Please email info@nrichdx.com.
For Research Use Only. Not for use in diagnostic procedures.
All trademarks and company names are the property of their respective owners.