Urine as an abundant non-invasive sample type for liquid biopsy
Urine is a well-characterized source of circulating cell-free nucleic acids, such as cfDNA and cfRNA in urological cancers and some non-urologic cancers1,2. As an abundant, non-invasive sample type urine is an increasing focus of liquid biopsy clinical research and development as shown in the published manuscripts chart below3.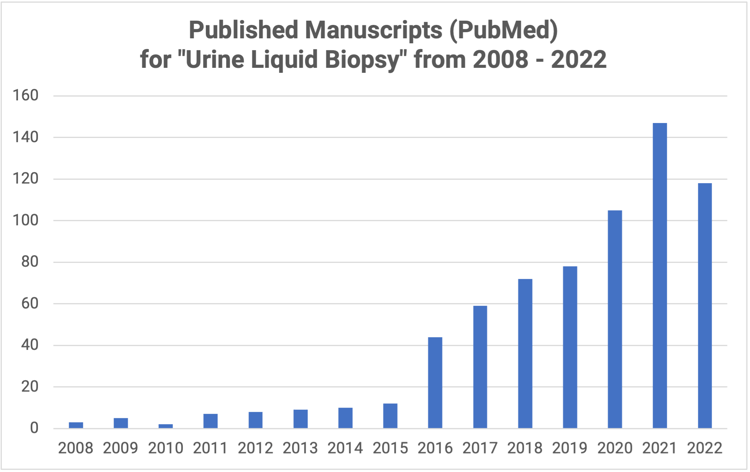 The nRichDX Revolution Sample Prep System greatly improves the chances of recovering rare mutations from cfDNA and cfRNA from urine samples due to the Revolution System's nRicher Cartridge sample capacity, which enables analyte extraction from sample volumes of 1 mL - 20 mL of urine in a single extraction. The patented process captures more actionable cfDNA by combining increased recovery efficiency with the use of a larger sample volume. This combination enables analyte capture more efficient and higher yielding than other sample preparation methods.
Urine extraction protocols are found within the Instructions for Use (IFU) for the Revolution cfDNA Max 20 kits, as well as the Revolution cfTNA (circulating total nucleic acid) and cfRNA Max 20 kit in the Products section on this website.
nRichDX Revolution System and the Novosanis Colli-Pee for Urine Collection and Preservation
nRichDX has partnered with OraSure's Novosanis division to ensure compatibility and a comprehensive preanalytical solution between the Colli-Pee® First Void Urine (FVU) Collection Device, and UAS™ urine sample preservative with the Revolution Sample Prep System. nRichDX and Novosanis joint resources, such as a jointly developed webinar, posters, and Application Note are available here.
Oshi, Masanori, et al. "Urine as a source of liquid biopsy for cancer." Cancers

13(11):2652 (2021).

Jain, Surbhi, et al. "

Urine-Based Liquid Biopsy for Nonurological Cancers." Genet Test Mol Biomarkers (4) (2019): 277-283

PubMed search terms "urine liquid biopsy." 25 March 2023. https://pubmed.ncbi.nlm.nih.gov/