Revolution Sample Prep
Semi-Automated Workflow
Automate the wash and elution steps of Revolution Sample Prep with a semi-automated workflow powered by Eppendorf®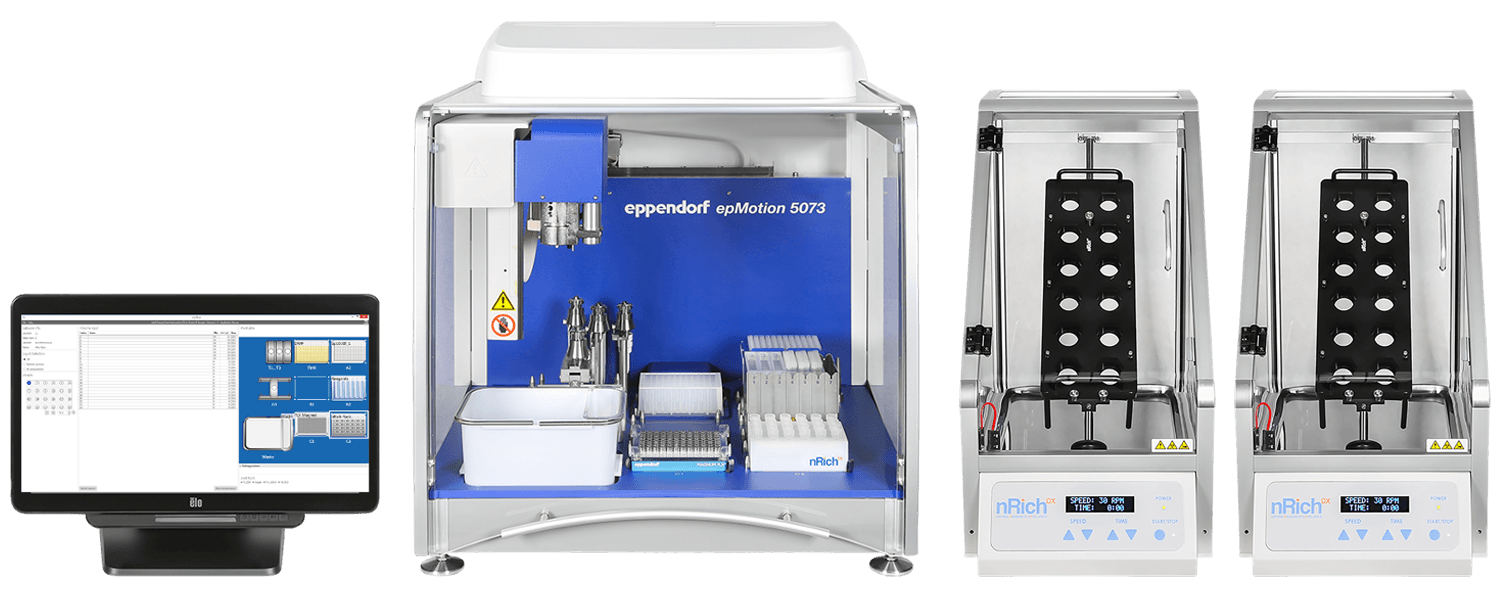 nRichDX and Eppendorf have collaborated to make available a version of the best-in-class epMotion 5073 liquid handling system programmed to automate the Revolution System's wash and elution steps (the "Eppendorf Option"). For higher throughput, the Eppendorf Option can be used in conjunction with two Revolution Processors to process up to 24 samples per batch.
In addition to Revolution Processors and kits, the Eppendorf Option requires the purchase of the Revolution Microvial Tube Rack (PN 100462) shown below.
The Eppendorf epMotion 5073 is available directly from Eppendorf.
The Eppendorf Option is intended for researchers performing Clinical Research and Research Use Only applications.* To purchase the Eppendorf Option, you may leave the nRichDX website and connect directly to Eppendorf using the button below.
*The Revolution semi-automated workflow is not labeled for IVD use, despite the fact that the Revolution cfDNA isolation kits are labeled for IVD use.
For Research Use Only. Not for use in diagnostic procedures.
Eppendorf®, the Eppendorf logo, epT.I.P.S.®, epMotion® and Eppendorf Tubes® are registered trademarks of Eppendorf AG, Germany. epBlue™ and Eppendorf EasyCon™ are trademarks of Eppendorf AG, Germany. U.S. Design Patents are listed on http://www.eppendorf.com/ip. All rights reserved, including graphics and images. Copyright © 2021 by Eppendorf AG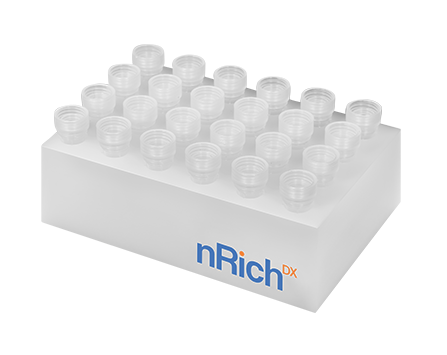 Revolution Microvial Tube Rack
PN 100462
The Revolution Microvial Tube Rack holds 1-24 nRicher Cartridge Microvial Tubes and is an essential part of the Revolution Semi-Automated Workflow.
Revolution Sample Prep (IVD)
Revolution Sample Prep Kits, Processor and Accessories are also available
as the IVD-labeled, semi-manual Revolution Sample Prep System.
Revolution sample prep semi-automated workflow resources
Keep up to date with nRichDX
You'll be the first to know about product updates and latest industry news.