Revolutionizing clinical pathology detection
Total cell-free nucleic acids (cfNAs) include nuclear DNA, mitochondrial DNA, and various RNA molecules such as mRNA and microRNA. cfDNAs are released in the circulation during apoptosis or necrosis of the cell.1 Cell-free nucleic acids are found in healthy individuals and persons carrying pathological processes such as cancer, inflammatory diseases, and sepsis.1,2
Increased levels of cfNAs and the presence of specific mutations can be used as robust biomarkers to determine disease development and progression. Isolating cfNAs from biological fluids such as plasma, serum, and urine enables molecular determination and progression assessment of diseases.3 Because of the short half-life of cfNA, its detection and quantification allow for a snapshot of current genetic disease conditions.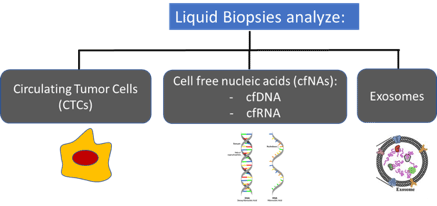 In different tumor types, cfDNA released into the circulation carries specific changes in DNA integrity and methylation, microsatellites alterations and mutations.1 In advanced colorectal cancer, it is estimated that 8% of circulating tumor DNA fragments contain mutations which can only be detected by sensitive and specific assays.4 Liquid biopsy is an efficient method to detect specific cfNA containing disease information.5 While the focus of liquid biopsies are DNA alterations, additional potential components of a liquid biopsy include cell-free ribonucleic acids (cfRNA), circulating tumor cells (CTCs) and exosomes.
Cell-free RNA (cfRNA) is also detectable in the serum and plasma of cancer patients. Sequencing cell-free RNA, particularly circulating microRNA (miRNA), from liquid biopsies has the potential to help establish a specific tumor signature. miRNAs are stable and therefore can be robustly measured in biological fluids. Deregulated levels of circulating miRNAs have diagnostic and/or prognostic value, for example circulating levels of miR-375 is a diagnostic marker in several cancer types including liver, colorectal, and lung cancer.6 The association of cfRNA and cfDNA for disease diagnosis helps health care providers with a source to obtain tumor genetic insights and reliable clinical testing.2
References
Schwarzenbach, Hoon D.S.B., Pantel K. 2011. Cell-Free Nucleic Acids as biomarkers in cancer patients. Nature Reviews, Vol 11:426.
Pös O., Biró O., Szemes T and Nagy B. 2018. Circulating cell-free nucleic acids: characteristics and applications. European Journal of Human Genetics, Vol 26:7.
Chan A.K.C., Chiu R.W.K., Dennis Lo, Y.M. 2003. Cell-free nucleic acids in plasma, serum and urine: a new tool in molecular diagnosis. Ann Clin Biochem, 40: 122–130.
Diehl, F. et al. 2005. Detection and quantification of mutations in the plasma of patients with colorectal tumors. Proc. Natl Acad. Sci., Vol 102: 16368.
Méhes G. 2019. Liquid biopsy for predictive mutational profiling of solid cancer: The pathologist's perspective. Journal of Biotechnology, Vol 297:66.
Larrea E., et al. 2016. New Concepts in Cancer Biomarkers: Circulating miRNAs in Liquid Biopsies. Int. J. Mol. Sci., Vol 17: 627.