nRichDX is hosting a webinar with keynote presenter Dr. Klaus Pantel on April 12 2023 titled, Current Perspectives on Liquid Biopsy Technologies
nRichDX will continue its Current Perspectives in Liquid Biopsy webinar series on April 12, 2023, with a webinar from Dr. Klaus Pantel titled, "Current Perspectives on Liquid Biopsy Technologies".
Dr. Pantel is Chairman of the Institute of Tumour Biology University Medical Center Hamburg-Eppendorf and Founder and Chairman of the European Liquid Biopsy Society (ELBS). Dr. Pantel is a recognized leader in the liquid biopsy community. Dr. Pantel is also a member of the nRichDX Scientific Advisory Board.
The live webinar will take place on April 12 2023 at 9 am PT / 12 Noon ET / 6 pm CET. The webinar will feature a keynote presentation from Dr. Pantel as well as a short presentation from Dr. Nafiseh Jafari, Director of R&D for nRichDX.
Those wishing to attend the live event or receive a link to the recorded webinar should register to attend at this link.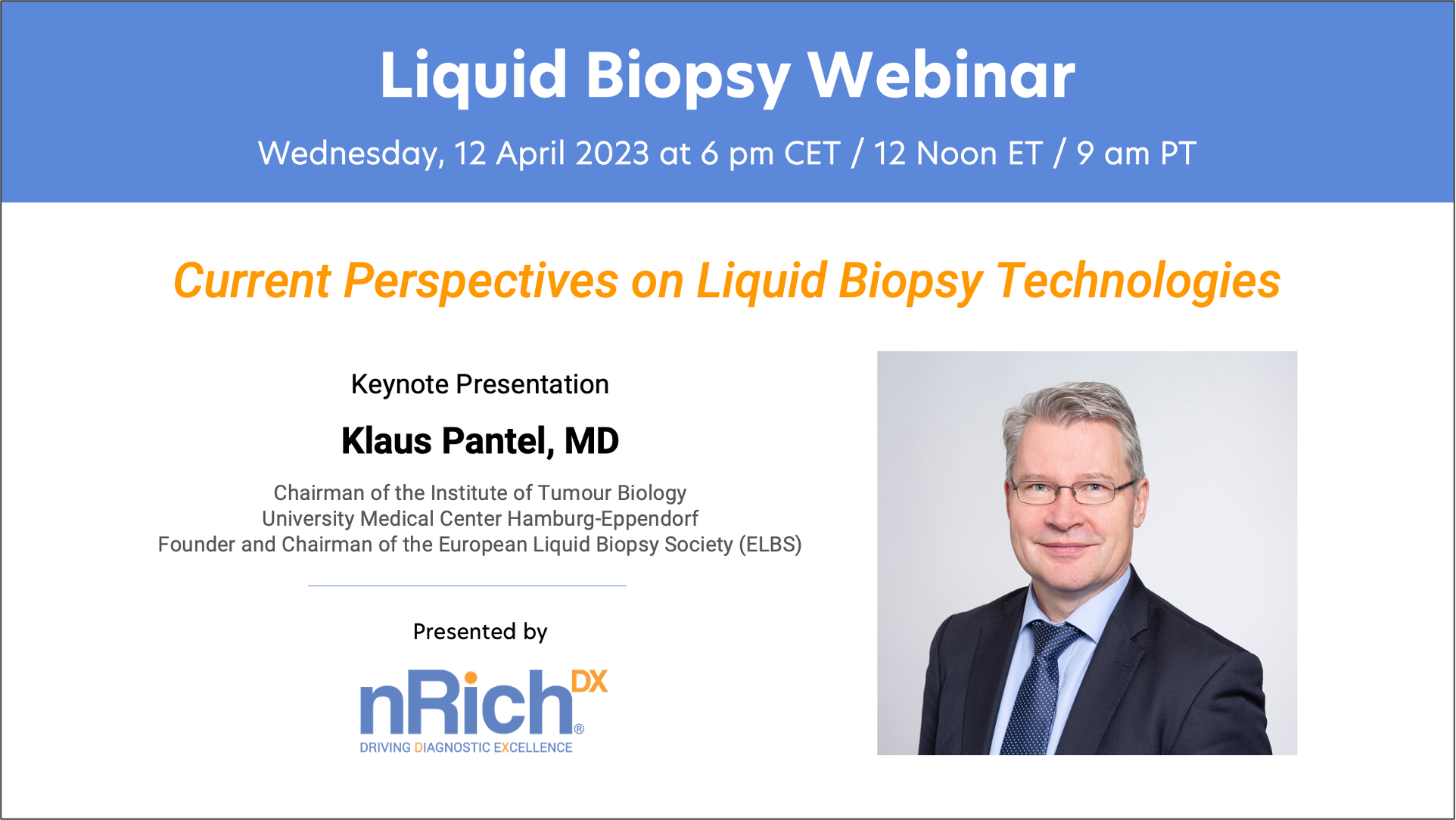 About nRichDx:
nRichDX® Inc, based in California, is an emerging leader in liquid-based assay sample prep solutions that enable customers to extract much more analysis-ready target as compared to existing methods. The company's patented Revolution™ Sample Prep System is the first and only high-yield, IVD-labeled liquid biopsy sample prep platform that can process a wide range of total volumes from 1 mL - 50 mL in a single magnetic bead-based extraction, without the yield-lowering pooling, transfer, or concentration steps other methods require. nRichDX solves one of precision medicine's greatest problems – – inaccurate or failed assays due to a lack of target material. The Revolution System greatly enhances test sensitivity and enables testing for earlier detection, monitoring, timely treatment, and optimal patient outcomes. More information at www.nrichdx.com